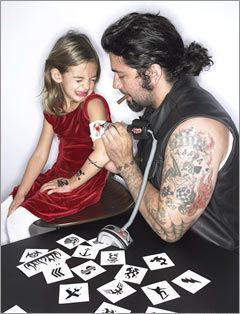 Here we have two more items for those parents who bought their kids the Peekaboo Pole Dancing Kit we mentioned in Strippercize for Kids last year.
First up, from Spin Master, we show you the I-Tattoo.
For a paltry fifteen bucks, you can get this kit which features what they call a "realistic, vibrating tattoo pen" and tells kids from ages 6 and up to "get ready to get inked."
That's right, now your pole dancing tyke can look way more authentic than all the other tiny pole dancers who don't have little [tag]stripper[/tag] tats on them.
Can't you just see the envy in the other parents' eyes when they see your 'lil Ashley gets up to show her stuff?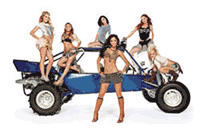 Alright, if you already got the kid the pole dancer kit and the stripper tattoo kit, here's something you can use to keep them motivated and practicing their moves.
What we have here is Hasbro's attempt to knock the Bratz dolls off the top spot. These are their planned Pussycat Dolls. These are aimed at girls 8 and older and feature the Dolls in a variety of their risqué, burlesque-inspired outfits. We're not sure if they'll have a version that sings "Don't cha wish your girlfriend was a freak like me" when you pull their strings, but we can always hope.